The Manual Synchronization tab has controls that grant the store owner greater flexibilty and granularity in maintaining their HubSpot Contacts.
Create New Contact
Update Existing Contact
Exclude Roles
When the Create New Contact setting is selected and Synchronize is clicked/tapped, only new contact records will be inserted into HubSpot from the store.  This is especially useful for stores with many customer records that exist prior to the plugin installatin.
When the Update Existing Contact setting is selected and Synchronize is clicked/tapped, only existing HubSpot Contacts will be updated.  
The store owner may restrict the synchronization of either (or both) new or existing contacts to specifially exclude certain customer roles.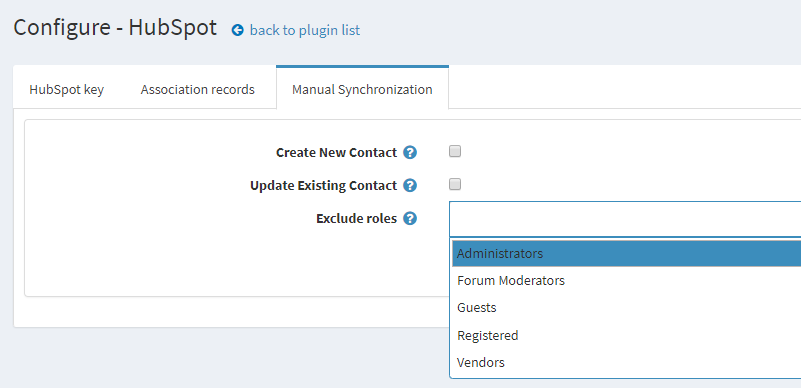 From the Exclude roles dropdown, select the roles to be excluded during the sync process. Multiple roles may be added for exclusion.  During synchronization, the plugin will exclude customers in those roles from being updated or created (depending on the previous two settings).
Note that these settings do not persist.  Manual Synchronization is presumed to be an infrequently-used procedure to meet an immediate need.  
The Create New Contact and Update Existing Contact synchronizations may be performed together, or separately.  When the Synchronization button is clicked/tapped, any roles specified in the Exclude roles edit box will be excluded from all selected synchronizations.